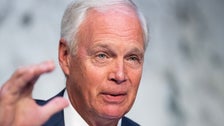 Sen. Ron Johnson (R-Wis.) gushed misinformation on Fox Information when he repeated the evidence-free declare that windmills have been deadly to whales. (See the video under.)
"All this local weather change alarmism is predicated on dangerous science, fully ignoring the influence of clouds to mainly be a warmth sink," Johnson inaccurately instructed host Dagen McDowell on Sunday. "Once more, the local weather has all the time modified, all the time will. I'm not an alarmist and I'm not in denial. … These windmills, in line with an earlier report in your community, are killing whales."
The Nationwide Oceanic and Atmospheric Administration additionally stated there are "no recognized hyperlinks between current giant whale mortalities and ongoing offshore wind surveys."
Fox Information itself has let the evidence-free declare bask on the airwaves, not too long ago selling a documentary that pushes the speculation linking offshore wind tasks to an increase in whale deaths and strandings, in line with Media Issues for America.
Johnson's local weather disinformation in Sunday's phase additionally caught the eye of liberal PAC Meidas Contact. Because the group famous, the senator failed to say the skilled view that the leap in international temperatures prior to now century and a half has primarily been attributable to the rise in carbon emissions following industrialization.
Johnson and Fox Information didn't instantly reply to HuffPost's request for remark.