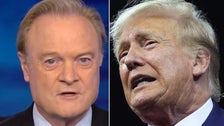 MSNBC's Lawrence O'Donnell accused Donald Trump of making an attempt to "steal the grief" of those that misplaced family members within the Sept. 11, 2001 terrorist assault.
"Donald Trump has been mendacity about 9/11 since 9/11," O'Donnell stated on Monday evening. "Right here is Donald Trump's most vile lie about 9/11."
He performed a clip of Trump claiming throughout a Republican debate that he "misplaced lots of of mates" on 9/11.
O'Donnell stated it was a lie ― and famous that he referred to as Trump out over it on the time.
Trump throughout a subsequent look altered it to shedding "many, many mates," however O'Donnell stated that was a lie too.
"Donald Trump misplaced zero mates on 9/11," he stated. "Donald Trump attended zero funerals of 9/11 victims. Zero. However Donald Trump tried to steal the grief of the entire households who misplaced somebody on 9/11."
O'Donnell famous that United Airways Flight 93 was probably headed for the U.S. Capitol on that morning, however as an alternative crashed in a Pennsylvania subject after the passengers revolted.
Then, he performed footage of Jan. 6 attackers breaking into the Capitol simply steps away from a plaque honoring these aboard that flight for stopping the assault.
"Within the twenty first century, solely two teams have tried to assault the US Capitol: al-Qaida, led by Osama bin Laden, and Trump supporters, led by Donald Trump," he stated. "Solely the Trump attackers really did injury to the Capitol."
See extra from his Monday evening broadcast: