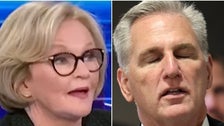 Former Sen. Claire McCaskill (D-Mo.) says a shutdown appears inevitable as Home Republicans can't agree on a spending deal to maintain the federal government open.
And that, she mentioned on MSNBC on Wednesday night time, may pressure Home Speaker Kevin McCarthy (R-Calif.) to surrender the gavel in a matter of weeks.
"Right here's the issue he has: With the intention to maintain the federal government from shutting down or to open the federal government again up, he's gonna should go to Democratic voters," she mentioned. "And which means he can't be speaker anymore."
She's referring to a hardline group of Republicans who've threatened as well McCarthy from the speaker's chair if he makes any cope with Democratic lawmakers.
However McCaskill urged him to do it anyway.
"Kevin, right here's the factor: It's gonna be painful," she mentioned. "Tear off the frickin' Band-Help. Confront these excessive folks in your caucus and say, 'Take me out in the event you can however I'm going to do what's finest for this nation and albeit what's finest for the occasion.'"
There's only one downside with that.
"However he looks as if he's actually a nasty negotiator and a extremely massive coward," she mentioned.
McCaskill mentioned a shutdown appears inevitable, and McCarthy will want Democrats to finish it ― and people extremists will then activate the speaker.
That would result in some chilling information for McCarthy earlier than Halloween.
"I predict earlier than we are saying 'trick-or-treat,' we'll be calling someone else speaker," she mentioned.
See the total dialog with MSNBC's Alex Wagner and Pleasure Reid under: